I've been asking for new weapons in DDO since … well … since there has been a DDO. But apparently new weapons are the very hardest thing to add that there is. And so, none are added.
Yes we did get sceptres, but those are really just clubs. And yes, there are spears, or at least a couple of named weapons that call themselves a spear, but both are really just staves.
I think the problem is not the weapon itself, it is the animation. Right now we have animations for one-handed fighting, two-handed fighting, two-weapon fighting, and unarmed fighting. Bows have one animation, crossbows another, and thrown weapons yet another.
The only weapon that all by itself dictates a special animation is the quarterstaff. And while this has nothing to do with the topic, quarterstaff is my favorite attack animation.
Raving DDO-style
But I digress. This is not about the weapons that DDO already has, it is about those that I wish would be added. Because they would change melee in a way that no balancing pass can possibly do.

---
Spear
The spear is probably mankind's second-oldest weapon, coming only after the rock. A pointy stick. It doesn't get more basic than that. But in Dungeons & Dragons the spear has additional features beyond just the pointy part. It doesn't do much damage (1D6) and it doesn't get extra critical range (crit on 20 only) although it does get x3 critical damage. It is about the same as a battleaxe, damage-wise. But that is only part of the picture.
A spear can be used one-handed, with a shield, or two-handed without. It can be a long spear, gaining extra range for it's user at the expense of mobility and close-in combat, or it can be short. You can poke with it, or even throw it. It is a simple weapon, meaning anyone can use it, and it does piercing damage. At last, there would be a two-handed piercing weapon in the game.

Short spear, long spear, two-handed spear
But the best part, quoting from the D&D SRD:
If you use a ready action to set a spear against a charge, you deal double damage on a successful hit against a charging character.
In other words, if you take a moment to plant the butt of your spear in the ground and aim it at whatever is charging you, it does double damage. I love that one. It is so … situational!
DDO needs the spear. Not because of the set-versus-charge bonus, although that would be awesome, but because it would immediately become the most flexible weapon in the game. About the only thing you couldn't do with a spear is swashbuckle. Everything else – and I mean everything else – would be available to the spear wielder, just awaiting the right circumstances.
---
Whip
The whip is another ancient weapon. A long strip of leather, nothing too fancy about that. Proper use is a little different though, and even D&D treats the whip as Exotic. Meaning, in DDO you'd need to take a special feat to be able to use it without a big minus to your attacks.
The whip doesn't do actual damage to anyone wearing any sort of armor at all. It does non-lethal damage (or subdual damage, if you are going all the way back to first edition AD&D) and not very much of that – 1D3. With almost no crit range (20) or critical damage bonus (X2). Purely from a statistical point of view, it is worse than a dagger.
But that is not the point of a whip. A whip can be used to trip an opponent. In DDO, that could act as an Equipment bonus to Trip (or Improved Trip) attempts. Much like a Vertigo weapon acts. Imagine a Whip of Vertigo: stacking double trip bonus! Nice. And so much fun, tripping giants is one of the great pleasures of this game.
But wait, there's more!

Also handy when saving the world from Nazis
A whip can be used to disarm an opponent! A skilled user can wrap the whip around a bad guy's weapon and yank it away from him or her. Awesome! Think how much fun that would be in DDO! I have no idea what the bad guys would do, swap to a different weapon or maybe just go bare-knuckles. A big change to melee, and an all-new melee feat too! So much fun.
---
Sai
Throwing the monks some love, let's add a fun martial-artist specialty weapon while we're at it. This one would be exotic too, like the whip. Sais are turtle Raphael's favorite weapon, but they have actual history of being used against sword-wielders. A sai is a defensive weapon; yes, it does damage (the same weapon profile as a dagger) but sais also provide a chance to disarm your opponent.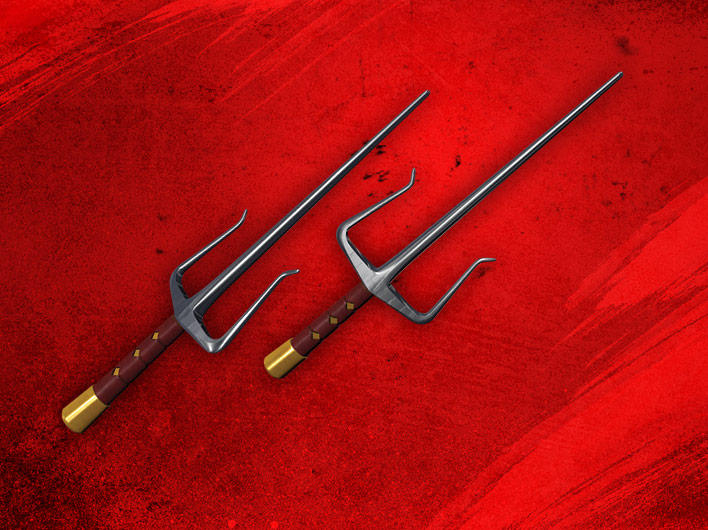 Even better than the whip in some ways, though not as stylish obviously, the Sai provides the same kind of Disarm bonus as the whip but goes one further by allowing a chance to actually break the enemy weapon.
Busted!
Wouldn't that be a good time? Charged by hobgoblins, one at a time you destroy their weapons, leaving them only to angrily shake their fists at you as they try to punch you into submission with unskilled boxing attempts. Fun! Yet another new melee feat.
And unlike the spear or the whip, no new animation is actually needed to implement sai. They could use the same two-weapon fighting style that is in place now.
---
Flexibility. Style. New feats. Melee-based crowd control. Much better than any sort of Armor pass, these weapons could spark a whole new way to melee.
Go ahead and tell me this wouldn't be fun. See, you can't even say it. Because it clearly would be fun.
It will never happen, but a guy has gotta have his dreams, right?
Whippy/spearing/sai dreams.
🙂 😀 🙂