Frame 1 is done. Only 64 to go.
One of the best things about doing this blog is that I was forced into the world of graphics. I have no talent for it, but still get a surprising amount of enjoyment out of doing the work. Building logos and icons and images, it's just fun. Very zen too, in that the required focus for someone of little talent is quite intensive.
Sometimes I get too ambitious. Like this morning. I have a nice Fraps capture of the illusionary dragon from the quest Party Crashers. I wanted to turn it into an animated GIF. But not just any animated gif, this is a dragon. I wanted it to be special. So I set about removing the background from each frame.
Like I did with Oriental Adventures, here, taken back when he was a she and had a wizard splash: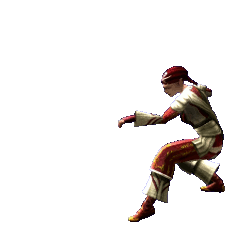 I felt that isolating Oriental like this, with no background, increased the impact of the thing. And I want to do that for the dragon too.
Except it seems to be taking me about 15 minutes per frame, and the dragon animation is 65 frames. Clearly, not going to be finished in time for use today. May not be finished this week.
So … here is the much less dramatic 5mb version that I was able to finish for today.
I will have to get back to you on the better version.
Soon. Or at least, soon-ish.
🙂 😀 🙂