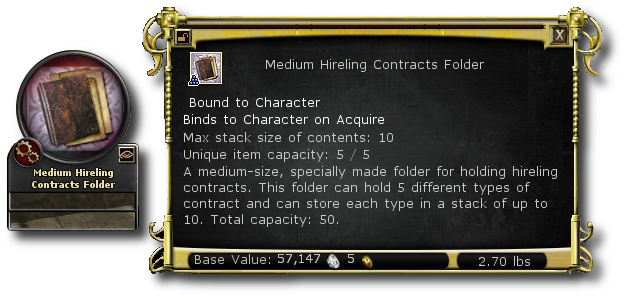 Maybe more useful than first thought?
I've never purchased or used a Hireling Folder.
I was totally okay with that fact until this morning. Now? Not so sure.
My Gamer Girl and I were duoing the Harbinger of Madness series. We had a conversation about hirelings –
she wanted to bring Natasha Thorston because of her DV's. I already had one contract for Natasha because of her Mass Deathward. We can't both have her, and since I had only the one hireling, I won. My Gamer Girl pulled someone else out of her Hireling Folder and off we went.
It got me thinking. Why don't I have a Hireling Folder full of contracts too? I am on my Completionist-To-Be, it's not like I won't have a use for multiple hirelings at multiple level ranges.
In the past, my thinking went like this:
They don't hold enough different kinds of hireling contracts
It would take up a backpack slot
I only need one hireling at a time, I can just buy it on demand
Can't buy Hireling Folders except with Turbine Points
We discussed this, my Gamer Girl and I, as we were hewing through pack after pack of Taken. She defeated my objections almost as quickly. First, she pointed out that folders come in different sizes and some of them can hold quite a lot of different contracts. I did not know that. Good bye objection (1).
| Folder | Stack Size | Unique items | TP Cost |
| --- | --- | --- | --- |
| Small Hireling Contracts Folder | 10 | 2 | 95 |
| Medium Hireling Contracts Folder | 10 | 5 | 195 |
| Large Hireling Contracts Folder | 12 | 10 | 395 |
| Huge Hireling Contracts Folder | 15 | 20 | 595 |
Table taken from DDO Wiki
article "Hireling Folders"
Next, she reminded me that the Onyx Panther takes up a slot but could instead be inside the folder, freeing up the folder's slot. See ya later objection (2).
After the second quest in the chain, Natasha expired. We needed new ship buffs anyway, but I still had to run back to the Marketplace to get another contract. Not a huge problem, one extra zoning instance, but not as convenient as having a stack of Natashas at my disposal. And thus was objection (3) defeated.
Still have that last objection and it is a big one. If I could buy one with platinum I'd run out and do it right now. But I can't.
How does one balance the convenience versus the Turbine Point cost?
In the words of King Mongkut of Siam, "Tis a puzzlement."
🙂 😀 🙂