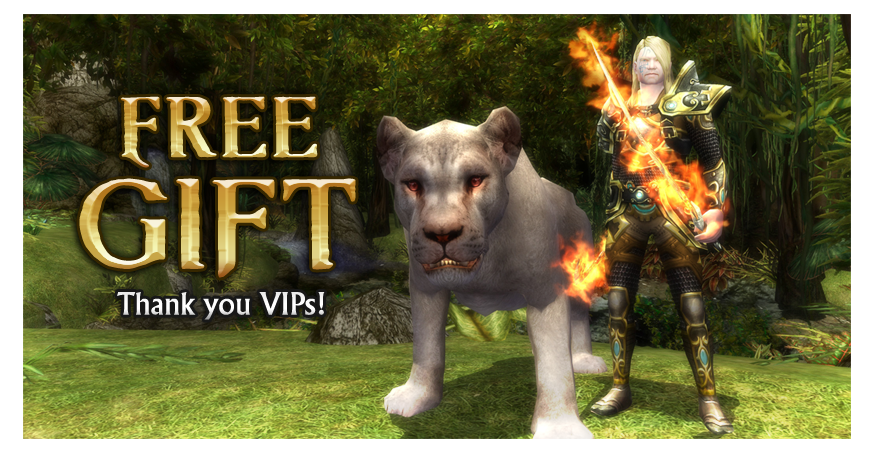 Well then, this is something new. Apparently Standing Stone Games has decided to give everyone who logs into an active VIP account a free gift. A level 20 permanent hireling named the "Alabaster Lioness Figurine of Wondrous Power".
As near as I can tell, the Lioness is identical to the Figurine of Wondrous Power: Onyx Panther, another permanent hireling that was included in the Menace of the Underdark pre-order bonus. Except the Lioness is white while the Panther is black.

If you pre-ordered Menace of the Underdark, and are still a VIP, you can have both, in your party, at the same time. If you also pre-ordered the Shadows of the Underdark Shadowfell Conspiracy expansion then you also have two different Owlbear companions, and can now form a party that consists of you and four different animals.
Details of the Lioness gift are found here, but it really seems quite simple. Log into any character during the gift period (Feb 6 – Mar 5) and the Alabaster Figurine will appear in your inventory. Assuming you are (or become) a VIP during the period. Can't be much simpler than that.
I can tell you from personal experience that I love my Onyx Panther, even though I have to put him away somewhere around level 24. He has a level of coolness that the Owlbears never approach.
Now all we need is a Tiger. Then we can have Lions, and Tiger, and (owl)Bears! Oh my!
🙂 😀 🙂