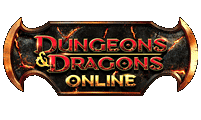 No longer "Eberron" or
"Unlimited", just "Online"
The forums have an all-new look.
The game has an all-new logo.
MyDDO has an all-new look.
And MyDDO is suddenly in beta?
Big changes coming. Welcome to Forgotten Realms DDO.
Nothing stays the same
Survival of the fittest
Grow, evolve, or die
I don't feel any different … yet … I wonder if my girlfriend feels any different? I'll have to check. Closely.
Many times. Just in case.
🙂 😀 🙂